Sail the Whitsundays without the crowd!
Our identical catamarans "O'Nice" and "Entice" provide an exciting sailing tour. Taking only 10 passengers at a time, you can look forward to a small group sailing onboard a smooth, stable and 14m long catamaran around one of the most beautiful parts of Australia. Sail, Snorkel and visit Whitehaven Beach. Paddleboard, swim… or just relax!
See all the best sights in the Whitsundays with us. One of our two catamarans "O'Nice" and "Entice" departs most days of the week for a tour over 2 nights. Friday tours run over 3 nights. Each sailing vessel offers outstanding sailing performance whilst providing a comfortable and stable ride. Our relaxed sailing tour will take you to all the right spots in the Whitsundays, including Whitehaven Beach, Hill Inlet Lookout and the fringing reefs of the Whitsunday Islands for amazing snorkelling and exploring. Enjoy epic scenic sailing, an exciting itinerary and plenty of time to sit back and relax as you make your way around the islands for one unforgettable experience. Our tour is suitable for all types of travellers, including couples, families, solo travellers, and the young at heart, making it inclusive, fun and a great way to meet new people while enjoying small group sailing.
Entice Catamaran Specs
Bred from a French catamaran racing heritage, Entice combines catamaran sailing and comfort cruising in perfect harmony. Her rounded curves glide effortlessly over the water. The huge foredeck is perfect for relaxing while under sail. The aft deck provides protection from the elements without having to move indoors. For easy access to the water, each hull has wide steps leading right down to the ocean.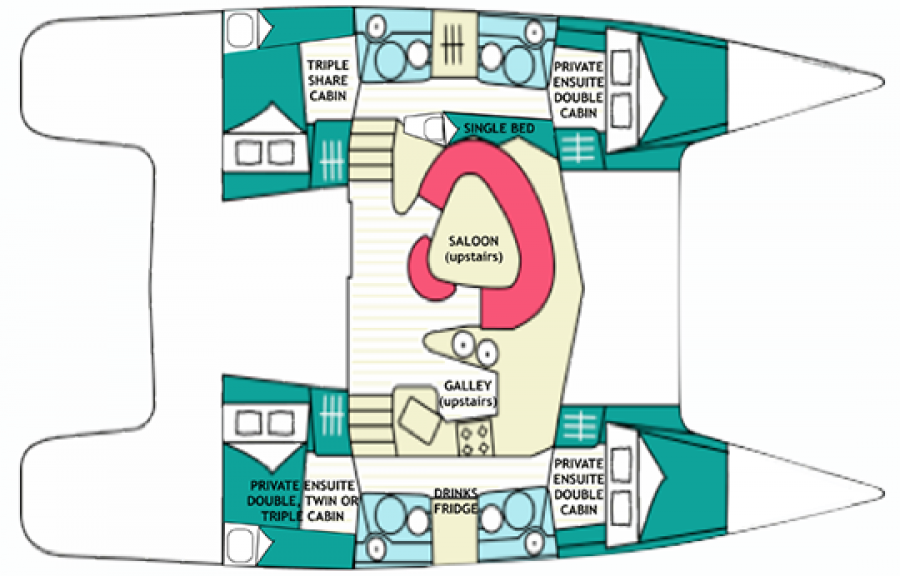 Inside you find a spacious saloon and lots of cabin space to chill out.
Designer - M. Joubert / B. Nivelt
Builder - Fontaine Pajot
Year - 2007
Model - Bahia
Overall Length - 14.2m / 46ft.
Hull Beam - 7.4m
Draft - 2.2m
Superstructure - Fibreglass
Sail Area - 98.5 sq. m.
Spinnaker - Yes
Engine Power - 2 x 39 KW
Water - 1000L
Passengers - 10 Max.
Crew - 2
Equipment - Masks, Snorkels, Snorkel Suits, SUP's, Glass Canoe
Each tour visits Whitehaven Beach, Hill Inlet Look and 2 or 3 snorkelling locations. Your skipper will carefully choose the best location for the day. Frequently visited places are Hook and Whitsunday Island, Manta Ray Bay, Stonehaven Bay, Blue Pearl Bay on Hayman Island and Langford Island.
AN EXAMPLE ITINERARY - 2 DAY TOUR
1. Sail to Hook Passage (overnight anchorage).
2. Peter Bay Whitsunday Island (snorkel).
3. Tongue Bay (Hill Inlet Lookout & Whitehaven Beach).
4. Stonehaven Bay Hook Island (overnight anchorage).
5. Blue Pearl Bay Hayman Island (snorkel).
6. Sail back to Airlie Beach.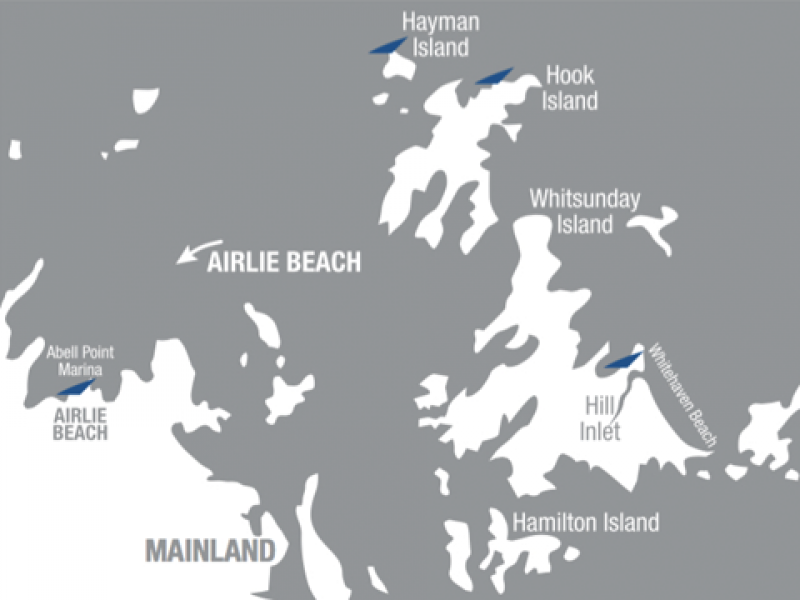 BOARDING
A friendly crew member will pick you up at 4 pm from the meeting area at the Southern End of the Coral Sea Marina on Shingly Drive, Airlie Beach. Pack light. You can store your luggage in our Check-In-Office in downtown Airlie Beach or ask your accommodation provider. You'll get taken to the boat, shown your accommodation and given a short introduction of the crew and the boat … and then you are heading out to sea.
SUNSET SAILING
Entice sets off to the Whitsunday Islands and after a brief sailing introduction, you and your fellow sailors will enjoy a sunset sail. Feel free to grab a drink. A snack will be served after dropping sails.
EVENING ON THE BOAT
The evenings are for relaxing, socialising or star gazing. A generous dinner will also be served. This is a great time to exchange travel tales or ask the crew about marine life.
GOOD MORNING
Start the day with the aroma of freshly brewed coffee. Breakfast is ready for you at 7 am. After breakfast, the tour heads to the 1st location for activities.
SNORKELLING
"Entice" and "O'Nice" snorkel in bays protected from wind and waves. Listen to the snorkel brief, then put on your snorkel suit and grab a mask. Our crew will drive you directly to the corals and fish with the inflatable dinghy (rubber ducky). Your snorkel guide will stay with you the whole time to watch over you and assist you. Enjoy the great underwater world with peace of mind.
STAND UP PADDLEBOARDING (SUP)
Go for a serene paddle in a bay. Just you and your board immersed in nature."
WHITEHAVEN BEACH & HILL INLET
From Tongue Bay on Whitsunday Island, we will explore Whitehaven Beach. Our crew drives you over to Whitsunday Island to the start of the Lookout walk. After a short bushwalk you will enjoy the most magnificent views from Hill Inlet Lookout. On the other side of Tongue Point awaits Whitehaven Beach. Enjoy some time here relaxing, sun baking and swimming.
THE LAST DAY
After breakfast, enjoy another snorkel site on the morning of your last day in the Whitsunday Islands. Next a big morning tea and then we get ready for another exciting sail adventure back to Airlie Beach.
*Itinerary: The itinerary is only intended as a guide as to what to expect. Each tour visits Whitehaven Beach and Hill Inlet Lookout. In order to make the best of your tour, snorkel and overnight locations will vary due to wind, weather and tidal conditions. The skipper selects the best locations for the individual day. We reserve the right to change itinerary and vessel without notice."